GALLERI V58 is located right in the heart of Aarhus – near the Town Hall and the AROS Art Museum – in the historic and very beautiful, completely renovated building 'Børnely', in which the gallery has over 400 unique square meters of exhibition space on two floors.
Today, the gallery is among one of the most significant and exciting galleries in Denmark. We represent over 35 professional national and international artists, and we continuously keep up to date with the new strong trends and currents in art worldwide.
All year round, the gallery presents art exhibitions with edge, depth and a high technical level – solo exhibitions, themed exhibitions, art events and tailored company events.
We welcome you to an art experience completely out of the ordinary! At GALLERI V58, everything comes together with ART, architecture and history. Come and experience it!
Newsletter
Sign up for the gallery's newsletter and receive invitations to exhibitions and follow news from the gallery.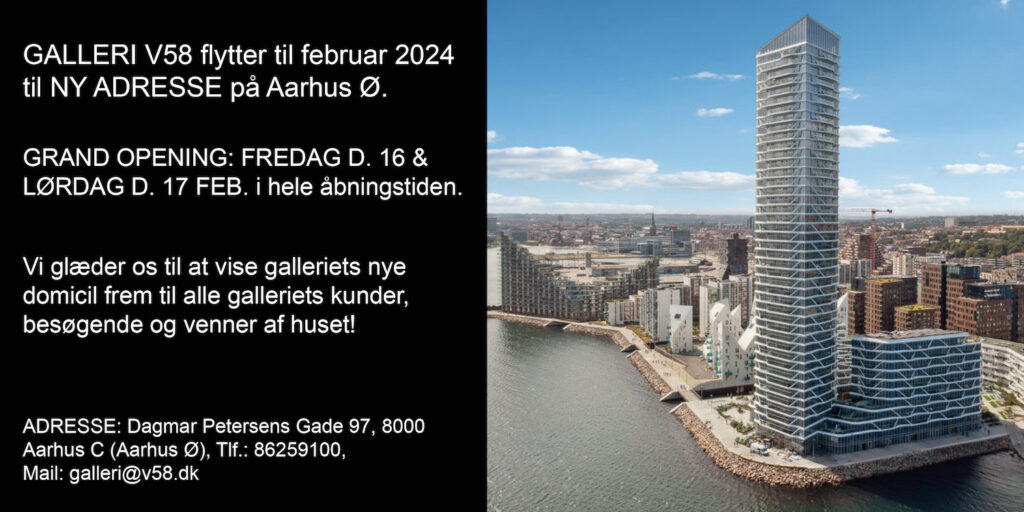 Watch a nice video review of the gallery by youtuber & blogger, Maria Fredgaard Storgaard.
GALLERY V58 has been mentioned by theculturetrip.com as one of Denmark's top 10 galleries.
Opening hours:
Monday – Friday: 11.00 – 17.30
Saturday: 10.00 – 15.00
Outside opening hours, the Gallery can be reached on the phone:
+45 21 20 20 52 (Eigil)
+45 22 28 93 02 (Chris)
Google Street View at GalleriV58
You can explore our beautiful Gallery with Google Street View.